Did I get scolded by Emma and told to blog? Maybeeeee. Am I doing it? Here I am, so… yes. Peer pressure works guys!
That to say – I really want to write a longer version piece of this, but I truly don't know how balancing being an amateur with competitive goals is a sustainable life. I feel like I'm burning the candle at both ends and then some trying to get everything done. Work has been unbelievably insane the last month (I… can't even get into it, but when I say insane, so much more than I've been through before), plus I'm trying to figure out some long term goals there – and what moves I need to make to get there. Nothing like some fun 75 hour weeks to throw you off your game a bit.
Add in riding. Lessons, schooling, trying to keep Doc conditioned to go run at KHP in October (!!!). Attempting to get to the gym so I don't die on the XC course.
We got out on the cross country course at the HHP a month ago (omg, I really am behind) which was the final catalyst to send in entries for Midsouth Team Challenge. russian girl dating app recently, but it's known for being a maxed out for the level, challenging course so I really wanted to make sure it was something we were prepared to handle.
Per usual with Doc… needed have not worried. We played with the water, banks, ditches and strung a whole bunch of things together. The best part? All the BN stuff looked totally do-able and even… small. We spent most of the afternoon jumping around Novice stuff. Stuff I wouldn't have dreamt of jumping a year ago.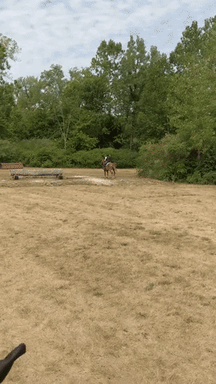 My trainer strung together this bank-ditch-rolltop-sled-coop-hanging log-trakehner course (omg I'm tired reading that) and I'm not gonna lie – that trakehner is a full N/T jump and it made me want to pee my pants a little. Peer pressure hits again? Totally worth it because the best feeling in the world was coming over it after he jumped like a rockstar – felt like I could go conquer the world.
Kentucky here we come!
If you'll be there, come hang out with us – we'll have food and drinks and ponies aplenty!